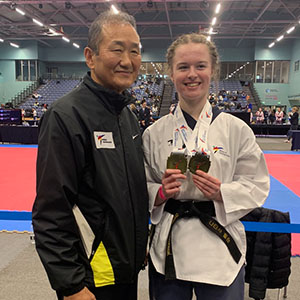 Natasha Wilson, from Larbert, has been with Central since she was 5 years old!
On Saturday 27th November she competed at the British Taekwondo National Poomsae Championships held in Worcester.
As she is 17 she was eligible to compete at both Junior and Under 30 level.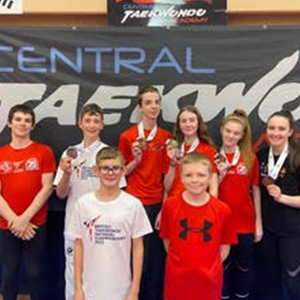 Central had a team of eight players competing at the British Taekwondo National Championships held at The Copperbox Arena in London's Olympic Park on Sunday 7th November. The team was expertly lead by Coach Darren Smith, who was very impressed with the professionalism and great performances put in by the entire team.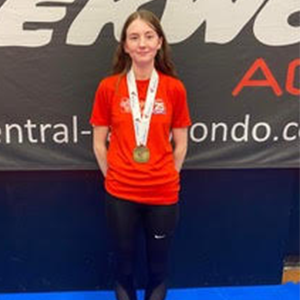 Neve Hogg, aged 16 from Larbert, was crowned British Champion at the British Taekwondo National Championships held at The Copperbox Arena in London's Olympic Park on Sunday 7th November.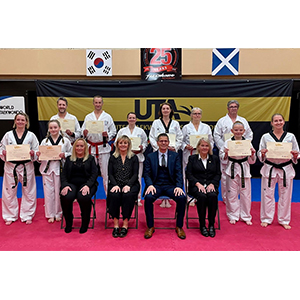 Central Academy had 8 members participating in the 66th UTA Dan Grading on Saturday 4th Sept.
All gave it 100% and performed exceptionally well to earn their new grade.
Promoted to 1st Dan Black Belt were Lyndsey Cartwright, Jonathan Shepherd and Stephen Cochrane.
Promoted to 2nd Dan were Andrew Smyth, Rowan Burke, Laura Perrow, Nicola Docherty and Valerie Hogg.
Congratulations and well done from everyone at Central.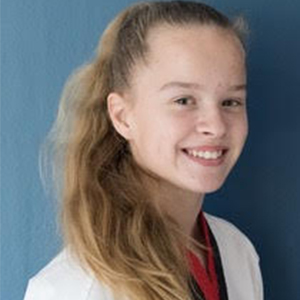 Natasha Wilson has been selected for the British Poomsae Team for the Online World Poomsae Championships 2021.
Natasha will compete in the Junior Female (14 to 17 years) category.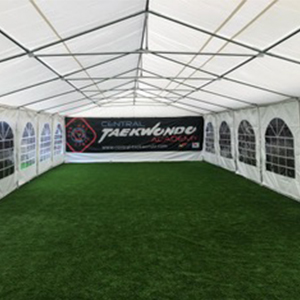 Introducing our new outdoor training area! Due to the fantastic support of our members and the local community we were able to transform the Community Centre back garden in just over a week.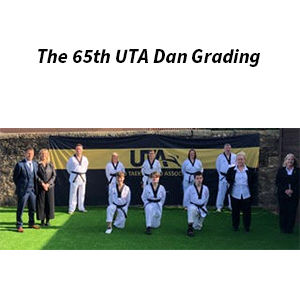 The 65th UTA Dan Grading was held at Central Academy on Saturday 19th Sept. It was the first time a dan grading had been held outdoors. The weather was kind to us and the grading was conducted under strict UTA dan grading conditions. Central Academy had eight candidates and all were successful!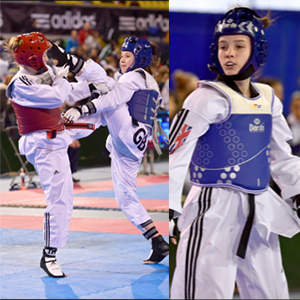 Central Taekwondo's Erin Shaw (17) has been selected to represent Great Britain at the Junior World Championships to be held in Sofia, Bulgaria from 14th to 18th October 2020.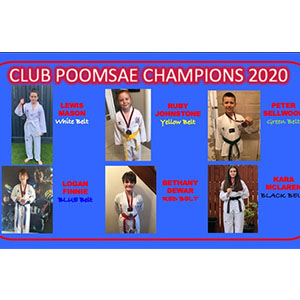 The 5th Central Academy Club Poomsae Championships was held online via Zoom on Sunday 7th June 2020.
Congratulations to our new club poomsae champions:
Lewis Mason, Ruby Johnstone, Peter Sellwood, Logan Finnie, Bethany Dewar and Kara McLaren.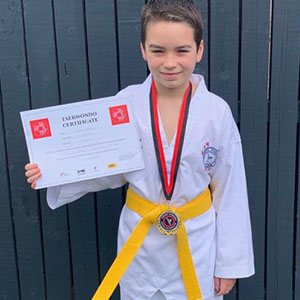 Central Academy conducted its first ever Online Kup Grading Test on 5th June 2020.
The grading candidate was Lewis Mason, who produced a faultless performance and was promoted to 8th Kup Yellow Belt with an Advanced Level Pass!
Well done Lewis!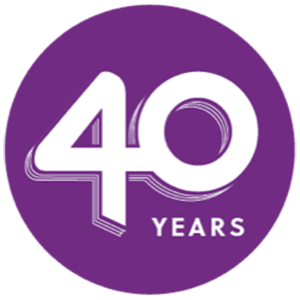 1980
30th March – Took part in my first ever taekwondo class. It was at Great Sankey Forum in Warrington with Grandmaster Shin (Mr Shin at the time!). I was 18.


1982
Grandmaster Shin had started a class at Norton Recreation Centre in Runcorn. I took over as instructor in the summer of '82, I was a 2nd kup red belt at the time. When I took my 1st kup black tag grading later that year in Manchester, I had six of my own students taking their first grading.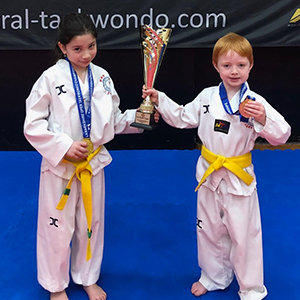 Gold medals for our Yellow Belt poomsae players Ema Condac and Thomas Dewar.
Pictured here with the team trophy.
Well done guys!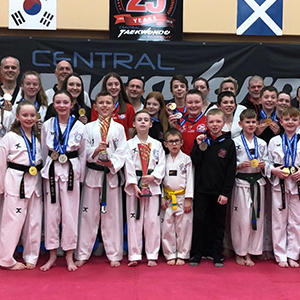 Great results for Team Central at the Lanarkshire Open.
1st Place Team Trophy in Poomsae
3rd Place Team Trophy in Sparring